Our Reading Room is stocked with an inventory of Christian Science literature from the Christian Science Publishing Society. These include our textbook, Science and Health with Key to the Scriptures by Mary Baker Eddy, all of her other works, plus several biographical sketches of Mrs. Eddy's life. There are also copies of the Christian Science Monitor, the award-winning international newspaper; the Christian Science Journal, a monthly publication; and the weekly Christian Science Sentinel – with archives of these that go back 100 years.
Also, the Herald of Christian Science, a publication written in languages other than English, is available in Spanish. There is also a Spanish version of Science and Health available for study. We also sell copies of the King James Version of the Bible. We have many resources for reading and study, and a quiet, welcoming environment for visitors to stay, read, study and pray.
For children, there is also a collection of children's books and activities available to teach the younger set about the Bible and some favorite characters and stories from the Scriptures.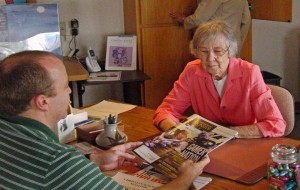 There is a vibrant collection of audio CDs of the Sentinel Radio program, music and books available for visitors' listening pleasure, with a CD player available. There are also videotapes and DVDs of Christian Science events and documentary programs available for viewing on a television in the Reading Room or taken home for private viewing. Please check with the librarian on duty for availability of these items.