November 6, 2020
UPDATE ON OUR CHURCH SERVICES
Our Church remains open and welcomes all to our Sunday Services and Wednesday Testimonial Meeting.
We are following the Pima County Board of Supervisors requirements for social distancing and the wearing of masks when individuals cannot easily maintain a continuous physical distance of at least 6 feet from all other persons.
Our Ushers all wear masks. Please wear a mask upon entering Church to help us follow the requirements as there is not much space in the foyer and down the aisles of Church to maintain a proper social distance of 6 feet. Once seated in Church and properly distanced, the mask may be removed. Upon leaving your seat, please have your mask on while in the aisle and in the foyer until you can reestablish the required social distance.
Free masks are available in the foyer as is hand sanitizer for anyone wishing it. The church is cleaned thoroughly each week.
We continue to have call-in service for those who choose to worship at home.
Our Reading Room next door is open Monday through Friday from 11:00 am to 1:00 pm.
Lovingly,
Executive Board
First Church of Christ Scientist, Green Valley, AZ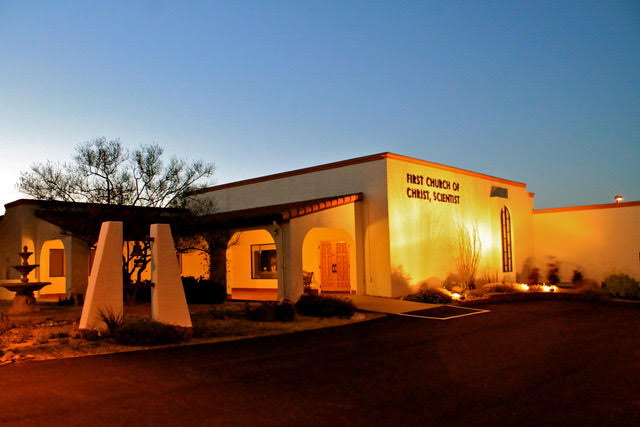 First Church of Christ, Scientist, Green Valley, Arizona, is one of the worldwide branches of The Mother Church, The First Church of Christ, Scientist, in Boston, Massachusetts, which was founded by Mary Baker Eddy in 1879.
Our particular branch church has members located all around the Interstate 19 corridor in southern Arizona – our members come from as far north as the southern city limits of Tucson to as far south as Rio Rico/Nogales.
Through the study of Christian Science, many people have found physical, psychological, financial and emotional health, answers to their deepest spiritual questions and an abiding peace. Christian Science recognizes that God is unconditional Love, infinite Mind and supreme Spirit. We are God's perfect ideas, made in His/Her image and likeness; thus, our nature is spiritual and it is impossible to ever be apart from God. When we realize, through prayer, God's infinite goodness, we are healed.