January 6, 2021
The Green Valley Christian Science Church will be closed until further notice for in-person services beginning Sunday, January 10th. We will, however, be continuing our broadcast services on Wednesdays at 5:00 pm and Sundays at 10:00 am. Please call in to the services with the following phone number and code number:
Phone: 520-448-0095 Code: 778255
*** REMINDER: Please mute your phone at all times (4* or "mute" button). It is especially important during the Wednesday Testimonial Meeting. When the Church line is "unmuted" for live testimonies and your phone is NOT muted, everyone can hear all the noise in the background such as tv, talking, dishes rattling, dogs barking, even whispers. Keep your phone MUTED till ready to speak, and then MUTE it again after you have spoken.
The Reading Room will be open with an attendant on limited days, Monday, Tuesday, and Friday, from 11:00 am to 1:00 pm. Members can access the Reading Room at anytime.
We will keep you posted when we open again for in person services.
Executive Board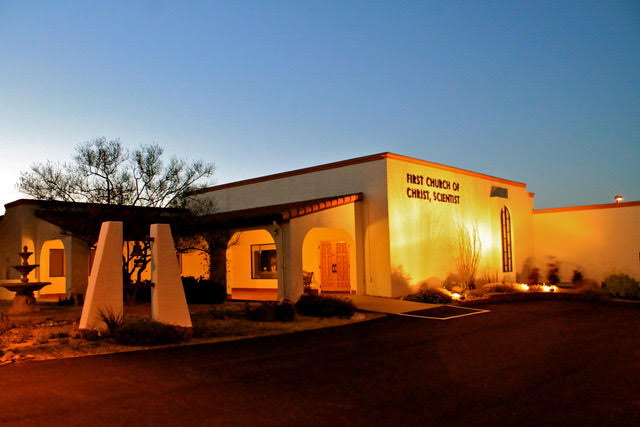 First Church of Christ, Scientist, Green Valley, Arizona, is one of the worldwide branches of The Mother Church, The First Church of Christ, Scientist, in Boston, Massachusetts, which was founded by Mary Baker Eddy in 1879.
Our particular branch church has members located all around the Interstate 19 corridor in southern Arizona – our members come from as far north as the southern city limits of Tucson to as far south as Rio Rico/Nogales.
Through the study of Christian Science, many people have found physical, psychological, financial and emotional health, answers to their deepest spiritual questions and an abiding peace. Christian Science recognizes that God is unconditional Love, infinite Mind and supreme Spirit. We are God's perfect ideas, made in His/Her image and likeness; thus, our nature is spiritual and it is impossible to ever be apart from God. When we realize, through prayer, God's infinite goodness, we are healed.