May 26, 2020
Dear Members and Friends,
The Executive Board of First Church of Christ, Scientist, Green Valley, AZ met last Friday, May 22, to discuss resumption of in-person services. It was decided to resume daily hours for the Reading Room (M-F 11 AM to 1 PM) beginning Monday, June 1; the Wednesday Testimony Meetings at 5:00 PM on June 3rd ; and Sunday Services and Sunday School at 10 AM on Sunday June 7.
Here are some procedures which we are asking you to honor while at church:
Six foot "Social Distancing" – In the auditorium please use alternate rows for seating beginning with the back row. Six feet between groups from the same household sitting together. Avoid sitting in roped off areas and/or congregating in the foyer to talk. Move outside to socialize.
Facial Coverings / Masks – Are not required but suggested as a courtesy to other attendees. Coughs and sneezing are requested to be covered with a facial tissue or mask. Ushers will wear masks.
Cleaning and Hygiene – Our church cleaner will continue her regular schedule with special emphasis on wiping down handles, knobs and commonly-touched surfaces weekly. Hand sanitizer will be available in the foyer and restrooms for those who wish it.
Quarterlies and Hymnals – We encourage you to bring quarterlies and hymnals from home or borrow them from the reading room until further notice. Hymnals and quarterlies will also be available at each service to be used at your discretion.
Call-in Services Still Available – We are continuing our telephone call-in services for anyone who isn't able to join in person: Phone: (520) 448-0095 and use Code 778255.
Our hope is to provide a safe, welcoming, loving, spiritual experience for every visitor to our church or Sunday School while always remembering the truth about Covid-19: "…Spirit is immortal Truth; matter is mortal error. Spirit is the real and eternal; matter is the unreal and temporal. Spirit is God, and man is His image and likeness. Therefore man is not material; he is spiritual." (Science and Health with Key to the Scriptures, Mary Baker Eddy, p. 468:11)
With love,
Executive Board, First Church of Christ, Scientist, Green Valley, AZ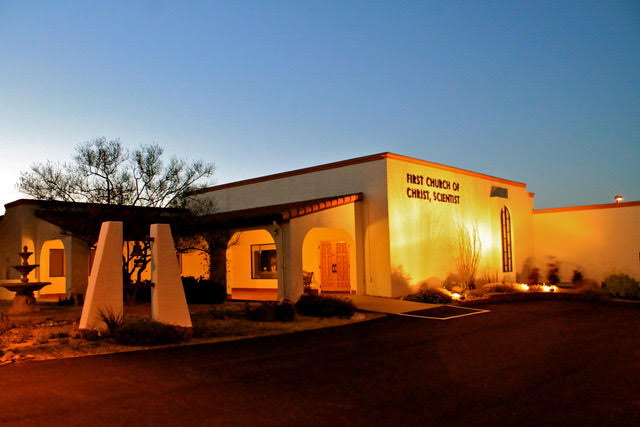 First Church of Christ, Scientist, Green Valley, Arizona, is one of the worldwide branches of The Mother Church, The First Church of Christ, Scientist, in Boston, Massachusetts, which was founded by Mary Baker Eddy in 1879.
Our particular branch church has members located all around the Interstate 19 corridor in southern Arizona – our members come from as far north as the southern city limits of Tucson to as far south as Rio Rico/Nogales.
Through the study of Christian Science, many people have found physical, psychological, financial and emotional health, answers to their deepest spiritual questions and an abiding peace. Christian Science recognizes that God is unconditional Love, infinite Mind and supreme Spirit. We are God's perfect ideas, made in His/Her image and likeness; thus, our nature is spiritual and it is impossible to ever be apart from God. When we realize, through prayer, God's infinite goodness, we are healed.